Hacks to Targeting through Social Media
Hacks to Targeting through Social Media
The right audience for your brand is out there. As long as there is a need or a problem, brands are readily available to suggest solutions via a service or a product. The main question is, how do I reach the right audience through social media and marketing? Well, we've got the answer.
Social Media & Marketing; Who is My Audience?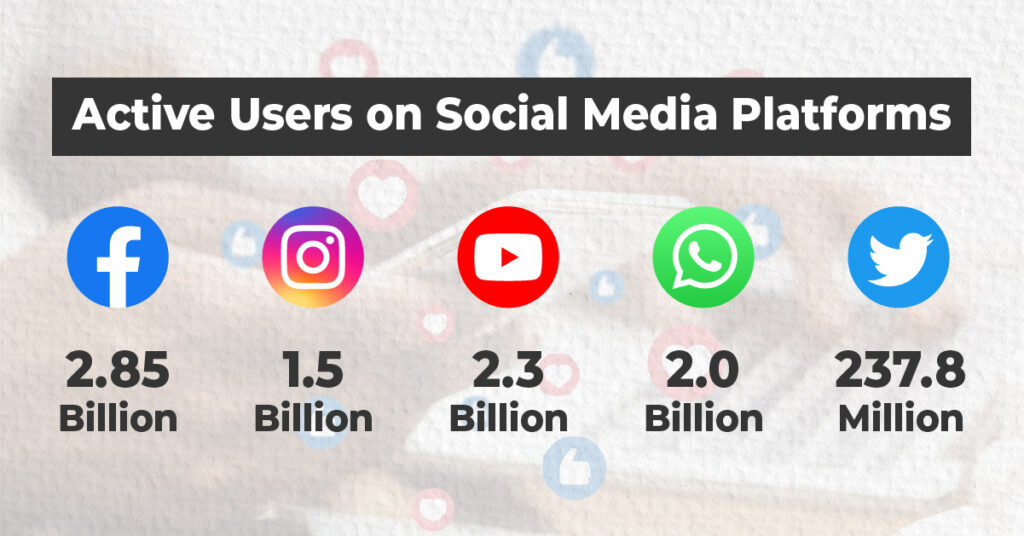 Nearly everyone on earth is connected to the internet. To be accurate, 63.5% of the population is connected to the internet. The internet, with all its benefits of bridging the gap between people and being a boom for connectivity, is also the birthplace of social media. Here are some statistics on social media you should consider when building your social media and marketing plan:
Facebook is the largest social media platform. It has 2.85 Billion active users, most of which are from India.
Most people spend their time on the social media platform YouTube which hosts 2.3 Billion active users.
Instagram, the preferred social media platform for Millennials and Gen Z, has approximately 1.5 Billion active users and is slowly picking up.
Followed by these mega titans are social media platforms WhatsApp, WeChat, Pinterest, Twitter, TikTok, and other big leagues.
As a business owner or someone who wants to reach the right audience, identifying who you are targeting will take the maximum amount of your time. Researching your ideal customer type, the people who will resonate with your brand, and those who will engage with you or want to purchase your product, is a time-consuming yet fruitful process. Thankfully, in this era of digital marketing and social media marketing, experts like us at Digikore Digital warmly extend our help to ensure brands grow in the right way!
Hacks to Ensuring the Right Targeting on Social Media
Social media marketing is sharing who you are through the right content with an audience who will engage with you when they find what you're offering relevant and meaningful to them. Here are some ways to ensure that your social media marketing campaigns hit it well with your potential customers:
Start Strong. Social media aesthetics are what keep a person engaged. Create new and unique content that an audience finds worth stopping and watching. Think about what you want to share with your audience, build on your aesthetics, and start your posting process.
Hashtag Game. That's right when social media started, no one understood the importance of hashtags. Today, hashtags assist in grouping and categorizing various types of content and it also plays an important part in the engagement rates for posts. Using the hashtags that are trending or the ones that are the most searched is a great way of making sure that you open yourself up to the right type of audience.
Trend Marketing. This is most recommended for businesses that are starting. Finding out what is trending around the world or in the area that you are catering to and then modifying that trend to fit what your brand is all about is a great way to reach your target audience. This social media marketing tactic is proven more effective than normal and scheduled social media posting for most brands.
Communicate. Engagement with your audience is the best way to go forward. If you have a set of followers who are constantly engaging with your content, then talk to them personally. Do shoutouts, message them privately, offer them discount coupon codes for your brand, and basically, keep them happy. Engaging with your audience through comments, replying to messages on time, and liking the stories or posts of people that are following you is a great way to sget started on your social media marketing journey.
Collaborate. Research shows that influencer marketing is the best way to move forward with your social media marketing plan and to get maximum engagement from your target audience. Since the introduction of reels and influencers gaining maximum traction from the type of content that they post regularly, brands target the influencers based on their content relevancy and based on the type of followers that they have. For businesses that just started, micro-influencer targeting is recommended as the go-to social media marketing strategy.
How We Assist Brands
We at Digikore Digital are a team of content marketing and digital marketing professionals who help brands grow exponentially using various digital marketing tools. We specialize in website optimization, content marketing, social media marketing, digital marketing, and all verticals related to the growth and expansion of a brand's reputation. Working with influencers, and assisting in increasing the engagement rate of brands through targeting the right audience is our forte. So, contact us today via our website and get a personalized plan made just for your brand.