Why Digital Presence for Your Business is a Must ? 
Why Digital Presence for Your Business is a Must ? 
What do you do when you want to find any product or service? You Google it, right? We all know that the internet is the direct mediator between the consumer and seller. You might not believe it, but even in this digital era and after such a pandemic breakout, 27% of small businesses don't have a website. To establish a successful business in this decade, a digital presence for your business is very important.
The whole market is shifting digitally whether it's about selling a service or placing an order, we are living in the digital era. Unlike geographical locations, digital platforms are accessible from anywhere. If today, you won't set up your small business online, there is no chance that you will survive this cutthroat competition. Hire Digikore Digital, a Digital Marketing company in Pune and let them digitise your small business.
Importance Of Online Presence Of Businesses
In this digital era if you want to level up your small business, you gotta build an effective online presence:
1. Build Company Image
To build or enhance the brand image, establishing an online presence for all small businesses is important. Without an online presence, for half of your targeted audience, your services don't even exist. Building a website even builds a positive impression on your clients. Today, whenever a user looks for any product or service, their first move is to Google it and find out about their online presence.
In this era of online shopping and services, a digital presence for your business is like oxygen for humans. A business can't survive this cutthroat competition without being available in the top search of a user. Consider it like the basic requirement for a rich user experience is "online presence".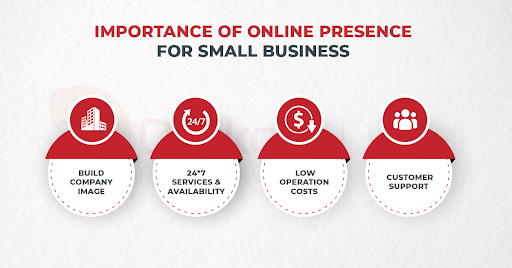 2. 24*7 Services and Availability
Suppose a customer would like to order food from your restaurant at night as you provide 24*7 service. But, you don't have any website or online presence, so how will they place the order? The importance of the online presence of a business is such that a user can place orders any time, any day or night.
Even if you don't provide 24*7 services, at least there are high chances of lead generation due to online presence. Sometimes, the user would like to make an inquiry before placing their order and the manual support 24*7 is not possible. This is a digital world, it works on smart work.
3. Low Operation Costs
The biggest importance of an online presence in business is that it saves you money. For instance, Chatbots will replace your requirement of hiring a customer service staff, the FAQs will provide the answer to common concerns, no manual requirement of placing/conforming orders etc. Along with saving time, it also saves the cost of operating a business. And small businesses can use the saved money to market their products/services.
4. Customer Support
If you have an offline business you already know the struggle of dealing with customers' queries manually. Manual customer support is time-consuming. However, if you have a digital presence for your business, you can create a FAQ section, a relevant video where all the generic concerns of target customers are there.
Not only will it save time, but also help you to provide a better service to both your clients and prospects who are looking for relevant services. Instead of solving customer queries manually, focus on lead generation and better user experience.
5. Low Investment
You don't require millions of dollars to set up your online presence. If you provide offline services, starting with a spend of some thousand bucks is easy. Either you can set up the whole business by yourself or hire a digital marketing agency like Digikore Digital to do it for you.
DIY Setup
You can host your website on self-hosting platforms like WordPress by using the inbuilt tools or buying advanced features. But, if you are new to this digital world, you might not enjoy the benefits of an online presence. This can be done only when you hire a digital marketing agency as it comes with expertise and experience.
Hire Developers and Marketers
The foremost advantage of hiring an agency is that it brings experience and expertise. Digikore Digital like marketing services are industry experts and know about the ongoing trends. They completely understand the industry-specific audience requirements and are able to provide the best user experience.
6. Target Locally and Globally
When you host an offline business, your customer base is limited to the localities. With a website or social media presence, you can reach out to the targeted audience worldwide. When you can provide your exclusive products and services, why limit yourself to a certain location?
There is one thing common between the success of both online and offline businesses "marketing". We already know the power of digital marketing whether it is done by social media or SEO. Expand your services, reach out to the targeted audience and establish yourself as the biggest online business. Digikore Digital is the biggest Digital Marketing company in Pune.
Many offline businesses are not growing because of the geo-location limitation. Break that barrier and rule your respective industry.
7. Work from Anywhere
The most considerable freedom a business operator gets with an online presence is "location freedom" so they can work from anywhere. However, the omnichannel bricks-and-clicks business model offers the liberty of hosting businesses both online and offline. It balances the benefits of two worlds: physical experience for humanizing the brand and experience, and online presence for customer service.
Besides this, the other importance of the online presence of businesses is working remotely. All you need is a strong internet connection and you are ready to operate your business online. Also, it saves a lot of costs of operating offline businesses like workspace, logistics, team management etc.
8. Market Across the Globe
If you have an online presence, marketing will become quite easier. Indeed, word of mouth is great for offline marketing as it builds trust among new customers, but what can even beat digital marketing? The online presence makes it easier for digital marketing. Moreover, social media marketing is another way of digital presence for your business.
This helps small brands to broaden their user base and target the audience outside the geo-location. Digital marketing helps you establish your credibility and win customers' trust. Moreover, it brings you closer to customers and you can get their genuine feedback about your product or service which will help you to provide a better user experience.
Conclusion
There should not be a second thought when it comes to creating an online presence for your small business. It is peak time that you build your online presence and target the right audience. Connect with Digikore Digital, to be the king of your respective industry via online image.