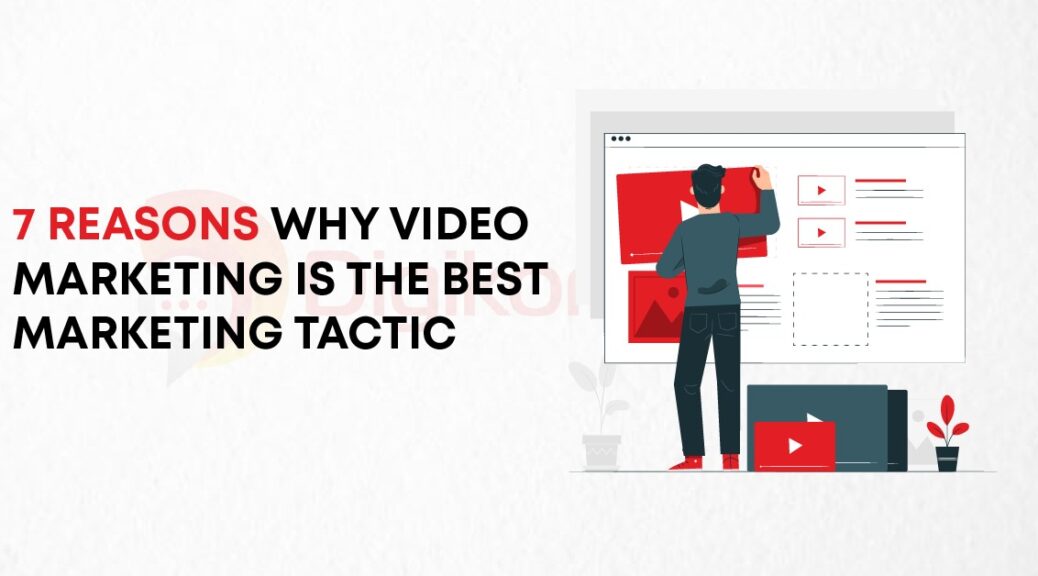 7 Reasons Why Video Marketing Is the Best Marketing Tactic
7 Reasons Why Video Marketing Is the Best Marketing Tactic
Videos have always been popular. Their popularity as content viewed for entertainment, education, leisure, knowledge, etc., has only been increasing yearly. There are more people in the world today who are viewing videos daily than ever before. Videos are going to continue on their popularity index, engaging more people than before.
Organizations today consider video marketing to be an asset and their go-to marketing tool. More than 80–90% of companies use videos as part of their campaigns to attract new leads and increase sales.
There is no doubt that videos are the most popular type of content among customers. Visually appealing, information-giving, short, and sweet—these describe a video. In the future, these statistics will only increase.
But, Is Video Marketing Effective for an Organization?
86% of all businesses in the world use video marketing as their primary tool to reach customers and drive sales. Aside from being engaging, informative, and ranked as one of the best forms of content for customer satisfaction, videos are extremely beneficial for marketers.
With the right content, the right elements, and the proper quality, videos can increase sales by a factor of ten or more. Effective targeting is one of the most important factors for organizations to ensure that their videos' reach and engagement remain at the top. 
7 Reasons Why Video Marketing Works:
Everyone and anyone like to watch videos. Google loves websites with integrated videos because videos are so popular.
Videos are the leading content agent for building trust.
Videos are customizable in any format and can be adapted according to the preferences of the viewer. Everyone loves a good video that can be seen on any screen without the content or quality getting distorted.
For businesses, videos appeal to every type of buyer. From buyers who watch a product video to ensure that the product meets their expectations to lazy buyers who are just scrolling through – videos engage.
Video content is memorable and versatile. An individual who has seen a video advertisement of a brand is more likely to remember the context of the ad even after long periods.
For the marketing and sales process, videos are known to be the driving force behind conversions. Those who have watched a video about a product during the buying process are more likely to purchase as compared to those who have just been given discount coupons and shown ads.
Videos drive a type of action. The best part about videos is that more than giving information and educating customers about something, they are emotional and drive empathy. This is the main reasons why video content is the most powerful.
Apart from this, there are several other reasons why video marketing and videos are effective. An organization can segregate its niches and target them accordingly. As a result, regardless of the type of organization, video marketing is one of the most effective tools as long as there is a marketing tactic and a customer journey.
Tactics for Incorporating Videos into Your Organization
Although it may seem that video marketing involves the making and rightful targeting of videos to an audience, there is much more to the concept than meets the eye. Video types vary depending on the context of the video and how it's created. Based on a combined report from organizations that fall under the best digital marketing company in Pune, the most effective types of videos are
Live-Action Videos
The best examples of live-action videos are reels with people in them providing information to an audience. In digital marketing, live-action videos constitute a whopping 42% of all video formats. Live-action videos can be described as those types of videos that use photography or people in the footage.
These come with added text animation and graphic elements for the explanation part of them are preferred compared to simple videos. A human figure in the video with proper eye-contact to the camera ensures relatable and engaging video content.
With social media today, live action videos in the form of reels are being created and engaged with everyday. As such, the need for more live-action videos is also rising.
Animated Videos
Animated videos come next after live-action videos. For an organization's video tactic, animation with the right storyline and proper graphics can be its greatest USP. Animated videos for organizations require high budgets and a proper planning format for effective conversions.
In retrospect, animated videos have greatly changed over the years. What was once the only form of entertainment gave way to being incorporated into nearly all industries.
Animation in the form of infographics, animation of characters, using graphical elements, etc.—anything that makes the viewers watch the screen while delivering appropriate content is going to work for an organization's video marketing tactic.
Screen Recordings
Screen recordings, also known as screencasts are video formats that are backed up with an audio file. In recent years, this type of video format has gained engagement from audiences because of the context.
Screen-recorded videos come in varying types. These can be as simple as recording the screen of simple text animations between two people or as complex as showing viewers how to do something on their computers with a proper explanation. Screen-recorded videos are beneficial as part of a company's video marketing strategy. A product development company in Pune can accomplish this by engaging customers and converting them into buyers.
The Most Engaging Video Formats
Engaging customers and making video marketing effective for an organization depend not only on the type of video being produced; the video category is also equally important. The popularity of videos as per their content is as follows:
Explainer videos
Social media videos
Presentation format videos
Video testimonials
Advertisements in video formats
As per common opinion, these are the 5 most engaging video formats. Of these, explainer videos hold the top spot. Psychologically, customers are always on the lookout for information that is going to benefit them in some way. This is where explainer videos play a huge role. Engaging customers by providing them with relevant information is always important. This gives way to pushing them towards the buyer's purchase decision.
In Conclusion,
Video marketing is the optimum way to boost the sales of an organization. There is no denying that videos have the power to not only give information to customers, but they also drive a certain type of emotion when made and targeted properly.
Additionally, organizations that include video marketing in their marketing strategy are more likely to see an increase in sales than those that don't. A congregation of the best digital marketing company in Pune has also observed that in-house
At Digikore Digital, we are experts at understanding customers and ensuring that companies target them properly to drive sales. With our expertise, we ensure nothing but growth for our clients. Check out our website for more information.