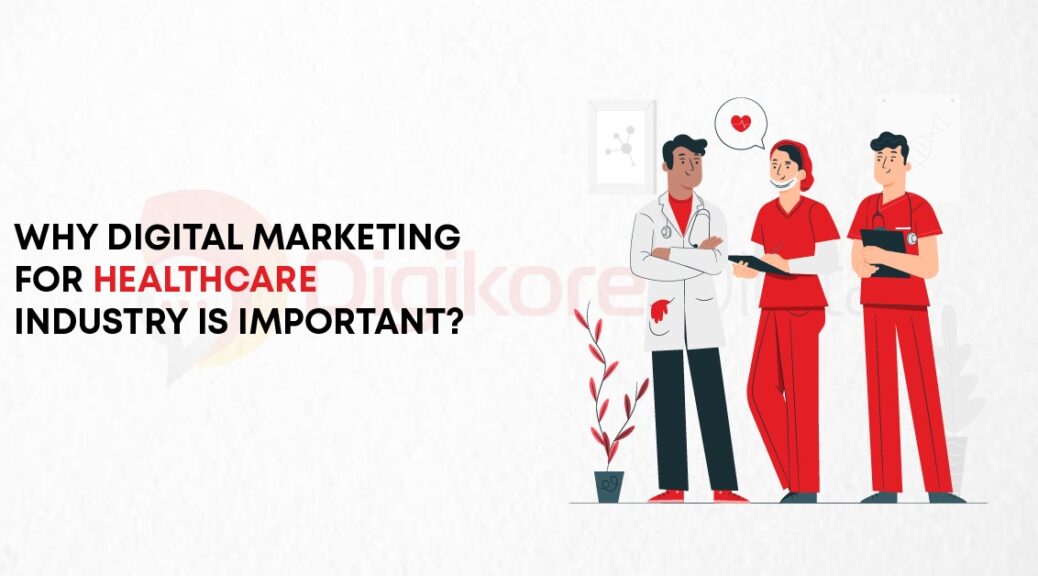 Why Digital Marketing for the Healthcare Industry is Important?
Why Digital Marketing for the Healthcare Industry is Important?
Healthcare is a very competitive industry. As a result, in order to attract new clients, businesses must enhance awareness of their services and provide outstanding care. According to several studies, most consumers prefer to call ahead or undertake internet research before seeing a medical professional. Digital marketing for the healthcare industry exposes your clinic's services to a bigger audience, resulting in a strong brand image that may help retain current patients while also recruiting new ones. The internet is also a terrific tool for providing information to potential patients, which healthcare practitioners should use.
In the healthcare industry, a patient's experience is essential. Patients who have a positive experience with your services are more inclined to recommend your services to their friends and family. This is made possible by digital healthcare marketing, which allows you to reach more people with fewer resources.
If you're wondering whether you should invest in digital marketing, keep reading to learn about the numerous advantages of digital marketing for healthcare.
Upholds Your Reputation
To retain and attract consumers in today's hypercompetitive market, you must uphold your hospital's reputation. Furthermore, an internet presence provides the general public with 24-hour access. Furthermore, SEO for the healthcare industry increases the accuracy of the information on the website. This is significant because if a patient encounters incorrect information, it can spread like a viral meme, harming the institution's reputation as well as broader public health.
Opens Communication Channels
Healthcare practitioners are increasingly communicating with their target consumers via digital channels. They may simply target specific demographics and areas using social media and search engines. They attract others who are interested in the same service, product, or issue by connecting with the people that visit these platforms. This enables healthcare SEO firms to tailor and optimise their material to the demands of consumers who visit their websites. They boost patient and community participation by speaking their language.
Maintains 24/7 Online Presence
The advantages of digital marketing extend far beyond the patient-facing element. The internet presence of a hospital is a brand extension that never sleeps. In a couple of seconds, consumers can obtain information and search for the prescription they require. The internet presence is a constant extension of the business, allowing customers to contact and connect with them. In a nutshell, digital marketing for the healthcare industry makes it more accessible and practical.
Offers Greater Exposure
The digital landscape is always changing and expanding, and the healthcare industry is no exception. While the internet has already had a significant impact on other businesses, it is still relatively new to the healthcare industry. Healthcare SEO services are critical for the growth of any organisation, whether it is a tiny local clinic or a huge hospital. The more individuals you attract, the more exposure you have. If you want to increase your profits, digital marketing is a great approach to reaching out to your customers.
Targets Audience Demographics
Aside from being a low-cost approach to promoting your services, digital marketing allows healthcare firms to target certain groups. Customers who seek these services are more likely to return to a clinic that provides them. People that use digital marketing are more inclined to recommend it to their friends and relatives. This means that health centres' websites must become more engaging and inviting. In fact, healthcare website SEO will offer a more satisfactory patient experience.
Increases Awareness & Branding
Another advantage of digital marketing for the healthcare industry is that it can raise understanding and brand recognition. The next wave of patient-facing marketing is 360-degree photographs and videos. In June 2016, Facebook released 360-degree images and videos. You may produce very immersive AV material and broadcast it on social media using tools like Google Lens and Street View. Similarly, marketing automation in healthcare can be used to deliver targeted messages and emails to prospective patients.
The usage of digital marketing in the healthcare industry is increasing as the industry grows. As a result, staying ahead of the healthcare industry requires an investment in digital marketing. It has the potential to improve patient happiness while also lowering the cost of patient acquisition. Similarly, healthcare SEO boosts organic search engine ranks while decreasing the cost per patient.
Our healthcare SEO agency can make your brand more visible to the audience by improving communication between the brand and the customer, which will enhance loyalty and customer satisfaction.
Is Digital Marketing For The Healthcare Industry Essential?
Investment in digital marketing is critical for the healthcare industry. Traditional marketing strategies are becoming obsolete as the internet grows in popularity. Aside from improving the overall patient experience, healthcare local SEO can boost the likelihood of the patient returning to the healthcare organisation. As a result, including digital marketing in your healthcare SEO strategy is compulsory.
The following sorts of healthcare SEO initiatives will boost your healthcare practice's visibility and reputation:
Service Promotion
More consumers are searching for information online as they become more involved in their healthcare. To reach a larger consumer base, a healthcare professional must use the power of the internet. They can develop their local patient base and build a reputation as an honest practitioner by employing healthcare SEO marketing to promote their services. You should hire a digital marketing specialist if you want to enhance the value of your digital marketing efforts.
Content Creation
Content is critical in the healthcare industry for increasing brand awareness. In reality, digital healthcare marketing is more effective than traditional marketing because it enables healthcare firms to create and disseminate information more easily and in a more focused manner. A video is one of the most effective ways to explain a complex topic or guide your audience through a daunting process. You can also make short-form videos, which are generally more effective on social media since they are visually appealing.
With the proliferation of internet material, hospitals may more readily create content that promotes brand awareness and enhances the patient experience. A video detailing a complex operation, for example, is an excellent approach to making patients feel at ease with your services. Shorter videos, on the other hand, maybe more popular on social media platforms such as YouTube, Facebook, and Instagram.
Mobile App Development
The healthcare industry is continually evolving, and the digital world expands year after year. As a result, in order to remain competitive, your Healthcare SEO Marketing tactics must adapt. Furthermore, COVID-19 regulated the purchasing process in the healthcare industry, and mobile apps have now made healthcare accessible to everybody. Patients can rapidly discover doctors and medical providers on their phones thanks to the internet, and they expect their healthcare providers to give a smooth app-like user experience.
Social Media Marketing
Social media marketing is a critical component of any organisation. It enables firms to interact with their target audience on a more personal level. It also aids in the development of trust and transparency with your target audience. Furthermore, by using efficient Healthcare SEO tactics, healthcare firms can improve their reputation and expand patient reach. It will benefit both their bottom line and their patients' general wellness. It will also assist their patients in selecting the best healthcare professional.
Conclusion
The role of digital marketing in healthcare cannot be underestimated. As with any other business, using social media and optimising your website can assist improve online traffic, which leads to more patients. Furthermore, a healthcare website can provide information regarding medical ailments that patients may be suffering from. By utilising digital marketing services for healthcare, you will be able to reach a larger audience and enhance your conversion rate, so improving both the number of people you can assist and your bottom line.
At Digikore Digital, we understand how critical it is to use digital marketing in the healthcare industry. Please contact us!